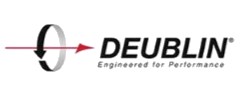 Deublin Company is the World's Leading Manufacturer of Rotating Unions
Deublin achieved ISO 9001 certification and the Authorized Economic Operator (AEO) certification.
Deublin Company was founded in 1945 entering into the Rotating Union market that was its unique design that incorporated balanced mechanical seals. During this time, the most popular type of sealing mechanism found in the industry was pressure type seals, which relied on the system pressure keeping wearing surfaces mated.
Increased speeds of various equipment, and specifically printing presses, resulted in rapid wear of pressure type seals.
Deublin designed a mechanical seal into a rotating union. This design was immediately accepted by the industry and so began the growth of Deublin Company.
Early industries for which Luke designed unions, in addition to printing, were:
* Air Clutches * Gear Boxes * Machine Tool Spindles * Textile Equipment * Rubber Manufacturing Machinery * Continuous Casting Machines * Paper Machine Calenders
In fact, virtually any industry that needed to transmit air, water, oil, or hydraulic fluid from a stationary source into a rotating portion of their equipment, solved this problem with Deublin products.